SUMMER 2020
Sales for December and January were slightly down from this time last year recording seven sales compared to nine sales in December/January 2018/2019.
The average sale price for the month of January was $1,339,000 down 17.4% from this time last year.
Demand for property in Arrowtown remains strong with a number of buyers waiting to purchase the right Arrowtown property.
The Arrowfields subdivision is soon to issue titles and you should see quite strong building activity in this subdivision in the coming months.
We appreciate you have a choice when selling your home, however we believe a key element of our past success is the emphasis we place on the training and continued development of our team members with special attention placed on compliance, negotiation skills and how to obtain the best price when selling your home.
We constantly up skill to keep abreast of the changes in Real Estate and the market.
Enjoy the beauty of Arrowtown and what this great town has to offer and stay safe.
Richard Newman – Principal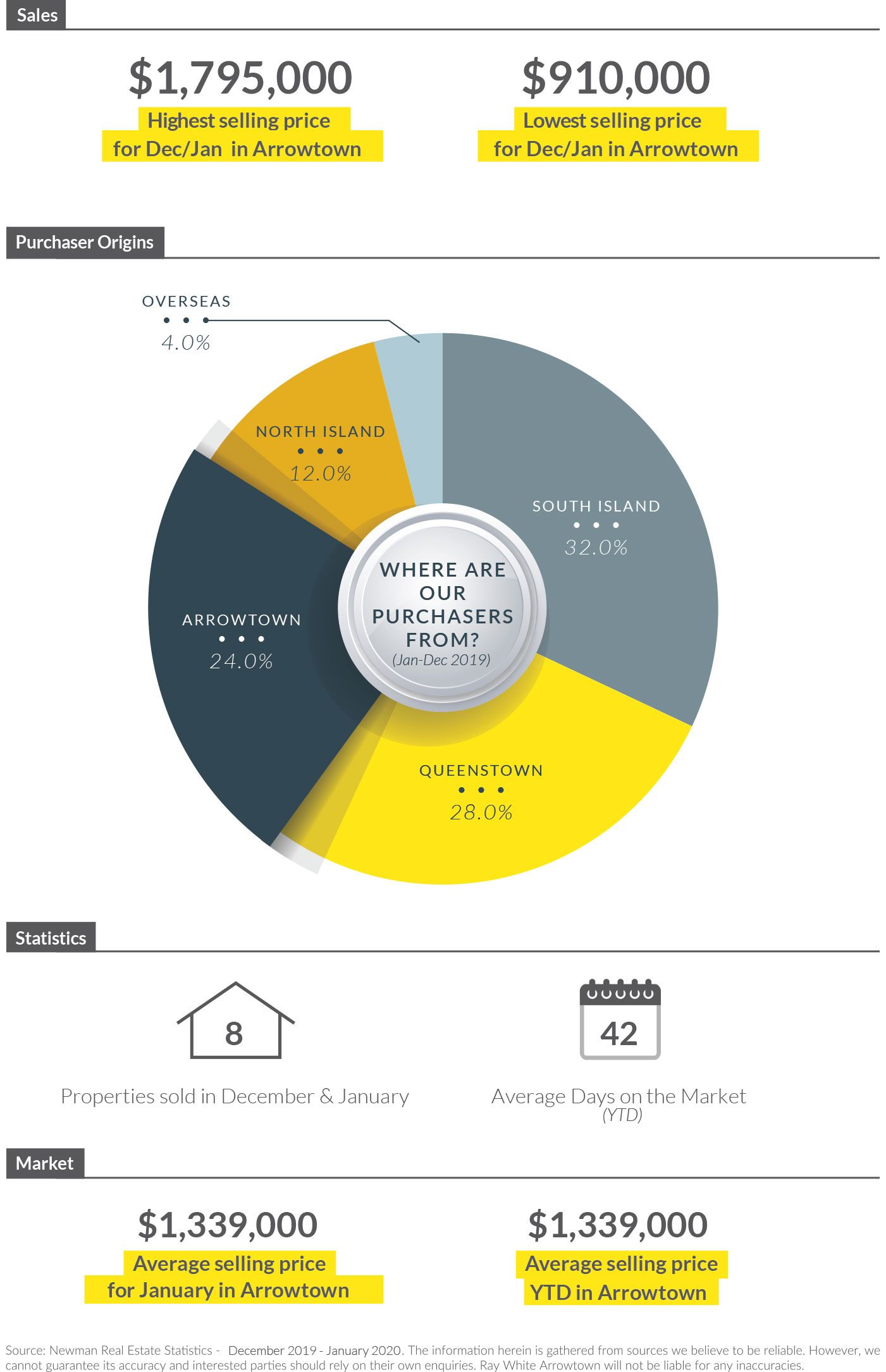 RURAL LIFESTYLE MARKET REPORT – SUMMER 2020
With Christmas, the School Holidays, Waitangi Day and some really weird weather patterns so far this season, it's reassuring to know our (completely unbiased of course!) decision to live the dream in the best place in the world, is reflected in a buoyant rural lifestyle market with 17 sales over the past quarter. Clearly others agree!
The strong urge to build the dream home is evident in the eight Lifestyle section sales; two in the Bendemeer subdivision, three in Lower Shotover, with one in North Ridge subdivision, one in Slope Hill and one in Wilding Road.
Established home sales consisted of two properties in Speargrass Flat Road, two properties in Millbrook Resort, and one each in Tucker Beach Road, Lower Shotover Road, Malaghans Road Lake Hayes Road and Ladies Mile.
Most of the sales were made in November and December in the lead up to Christmas whilst January was (with so many of us on holiday) a little quieter.
Currently there is an abundance of buyers looking for the right property, but there are insufficient new listings coming to the market to satisfy the demand. With such a restricted choice, buyers are paying optimum prices to secure their next property providing sellers with the ideal time to achieve a great result; a seller's market.
Many recent sales were multiple offer scenarios which makes sale by Auction the ideal forum to maximise the seller's sale price.
Barry Litten – Licensee Agent/Auctioneer