WINTER 2020
The last two months have been, to say the least, extraordinary for all of NZ, including Arrowtown and the Wakatipu Basin. There were no sales over April and two in May. Whilst we are seeing turmoil around us, the real estate market since Level 2 has been busy, with good activity happening in the market place and offers being placed on property. Mortgage rates have never been better at 2.5% and dropping, so if you are contemplating buying – now is the time.
Although we cannot predict the market, we can tell you what the market is doing 'NOW'. What we had before Covid-19 has gone! It is a whole new market. Consequently we believe Auction is the way to sell in this new market – buyers are not interested in past prices or valuations.
Sellers need to be aware of our new environment and what is ahead of us. The Ray White Arrowtown team is focused, positive and here to assist you through this unknown time. Our team is in 'The NOW', telling you what is happening in the market today, not yesterday, last month or what might happen in the future. There are uncertain times ahead and waiting carries risks.
If you are looking to buy make an offer on our great selection of properties and come pre-approved with finance (which makes life so much easier) and if you are having trouble with your bank, talk to our mortgage brokers at Loan Market who will guide you through the process and make it so much easier for you to obtain finance and also obtain the best rate.
Now is the time to take action whether selling or buying. If you need an appraisal on your home call one of our experienced local realtors who will guide you through the sale process and at the same time keeping you safe and well informed of the market.
From us all at Ray White Arrowtown, stay safe, stay warm and take care.
.
Richard Newman – Principal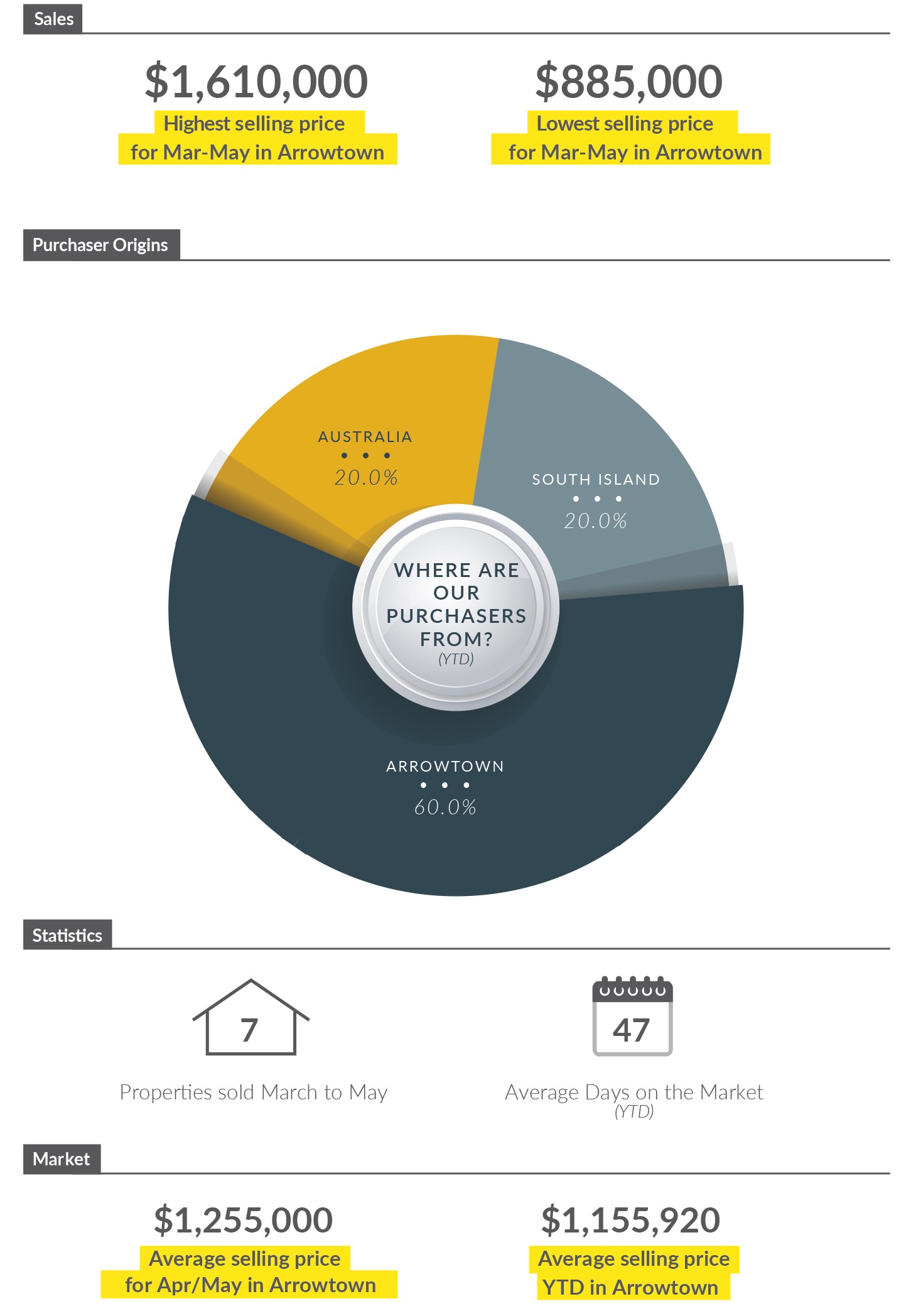 Rural Lifestyle Market Report WINTER 2020
Since the beginning of March the world has permanently changed due to the Covid 19 pandemic and our own slice of heaven was not immune. With the lockdown effectively closing down the real estate market along with most other businesses, thankfully, we are now back up and running albeit with Level 2 restrictions in place.
As you would expect, sales activity in the last three months have been slower than usual, however, there have some significant sales recorded.
In March, there were two properties sold in Streamside Lane and Orchard Hill both in excess of $4.5M as well as another in Gibbston for $3M.
In April there were two lifestyle sections sold between $1.45 -1.9M.
In May, another lifestyle section was sold near Tucker Beach Road and another two established lifestyle properties under contract above $2.5M.
There seems to be a steady flow of section sales which would indicate buyers still have an appetite to build their dream home here in paradise.
Well priced established lifestyle properties are still selling, although in the current climate, vendors will need to adjust their expectations accordingly.
Barry Litten
Licensed Agent/Auctioneer