EARLY SPRING 2020
There has been a significant increase in sales during June and July with a total of 10 sales. Interest is coming out of Auckland, Wellington, Australia and Hong Kong.
The volume of sales is well down from this time last year with a 37.5% decrease in sales. However the average sale price year to date (July) of $1,232,472 has increased by 14.2% from this time last year.
Stock levels are again getting low and with record low interest rates and plentiful buyers in the market place, there has never been a better time to sell your home. We cannot predict the future, but recommend if you are thinking of selling, now is the perfect time – do not wait for Spring.
With well over 100 years of real estate experience in our office and 50 years in Arrowtown we pride ourselves on giving good old fashioned honest advice along with providing the best technology and social media platforms available in the market.
Our salespeople are ready to assist you through the sales process and at the same time keeping you safe and well informed of the market conditions. Call us today for a free market appraisal.
Richard Newman – Principal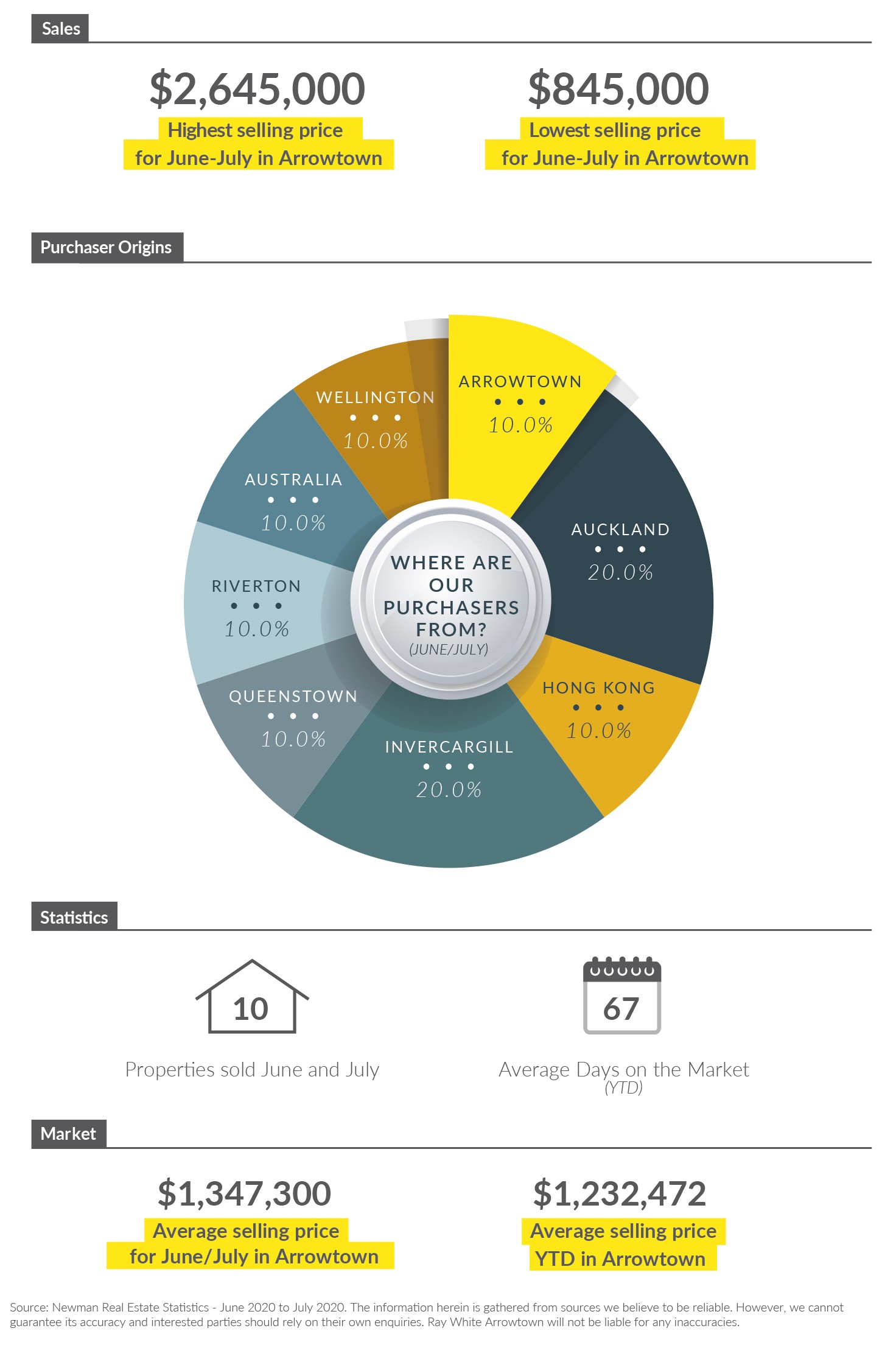 Rural Lifestyle Market Report
In tandem with the residential sales, buyers are also searching for quality rural homes in good locations. July saw a marked increase in both the number of sales and the number of buyers active in the rural residential market.
The preferred rural area is now the lifestyle block with a quality modern home offering a level of privacy and views within an area of similar homes. Speargrass Flat, Lake Hayes, Tucker Beach, Hawthorn and Dalefield are areas often requested by purchasers.
Sales in the past two months in the Wakatipu Basin have seen homes with land sizes between 2,700sqm and up to 7,000sqm selling between $1,700,000 to just under $6,000,000.
Buyers for lifestyle properties are typically located in Auckland, Wellington and Australia. However, inquiries we have received for homes have come from around the globe.
We have new lifestyle listings that are about to come to market and if your heart is set in the country, give us a call. We would love to hear from you.